Love,
Mika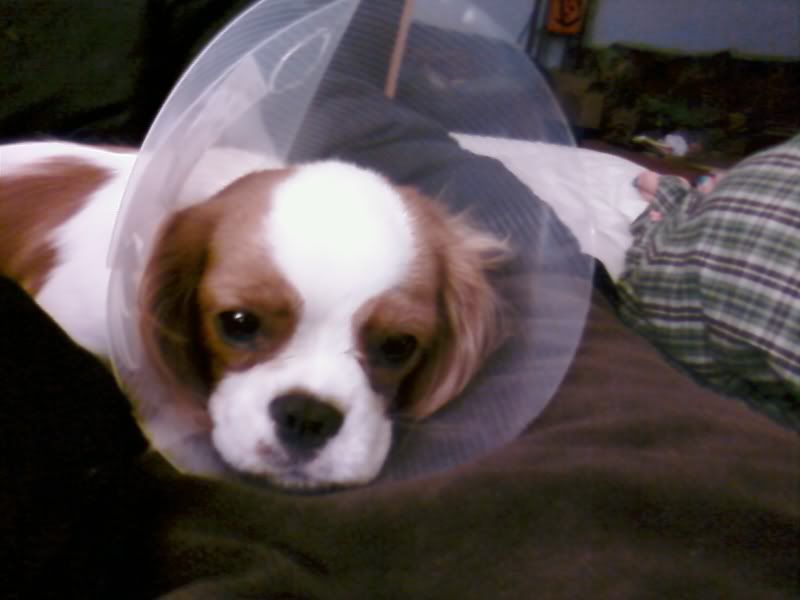 PS: This sucks
Greetings from the Cone!
(
Baby MikaBoo has been officially spayed. She is a very sad little baby :( She is very happy to be with her Mommies because she is getting very spoiled but she is very sad :


I graduated on May 17th. The ceremony was pretty fun. I got to sit near (and eventually with) one of my best Suffolk friends, Meghan. That was lovely. I was in "graduation shock" for two days following, haha. The whole, "omg, no more Suffolk" haha. My Mom came to the ceremony and later that day, Nikkis mom and aunt came into Boston and we all had dinner together. It was a really good day. I had fun.

Now - I am working full time for Suffolk as a conference coordinator. It's kind of difficult to explain my responsibilities, but believe me, there are a lot, haha. Hmmm... what else? Nikki and I are going to NYC tomorrow night for the weekend so that I can go to advising at NYU and then bum around Greenwich and the Upper West Side. My Mom and family friend Jeremy are going to come into the city on Friday and Jeremy is going to make measurements to put up a divider to enclose the bed and make the closet into an office for me (lol it's a big closet.) They are also bringing in two chests of drawers for Nikki and I. Pretty sweet. I am getting excited to live with her. Hopefully while I am in NYC, Brad and I can get together for a bit too.

Now I've got myself all giddy and excited about NYC. Eeeeee!!! I don't mean to start getting all self indulgent but - I've never imagined in my wildest dreams that schools like NYU and Columbia would want me. I turned down Columbia and they mailed me back telling me that they are still interested in me and that they are keeping my application for one year in case I change my mind.... like... holy shit dood! haha. It just shows ya though... I was tested for sped as a child... ya just never know. Ok - I'm done being snotty.

Jen Lancaster came out with a new book, Such a Pretty Fat. She is the author of Bitter is the New Black and Bright Lights, Big Ass. Girls (and gays), if you want an easy read that is halarious and will keep you laughing and laughing and laughing... READ THESE BOOKS!!!! I have a copy of each and I'm glad to lend them out (except for the new one, bc I'm reading it, haha.) I also saw that Jane Green (author of Jemima J) came out with a new book. Her books are always a fun easy read too. good summer books. She mentions London in most of her books and it makes me miss it so much. The book I'm reading of hers now takes place on Marlybone High Street. Eeeeee!! I bet it's right near the glorious Tup.

Hmmm - what else?! I have hit a goal weight that I've been striving for, for a long time. I'm such a brat though - instead of being satisfied, I just want to make another goal and get there.

Nikki and I have chosen a breeder for our future cavalier king charles spaniel, The Dutchess McVitie. I can't freaking wait to get that dog. I can already tell that I am going to be unhealthily obsessed with that dog. Our breeder emailed me yesterday with pictures of dogs available now and a couple of them were irresistable!!!! We definitely have to wait though (hear that, Nikki!? haha)

I can't think of anymore interesting things going on. My life is pretty dull lately. Just work and stuff, haha. I guess that's it :)

PS: I JUST found out that Jen Lancaster will be in Boston at the Boyleston Borders and I am definitely going to go meet her!!! OMG exciting!
Well - I really haven't posted in a long time. I've been super busy with work all the time and when I'm not at work, I try to avoid computers as much as possible, haha.
.... I JUST FOUND OUT THAT I GOT ACCEPTED TO COLUMBIA UNIVERSITY!!!!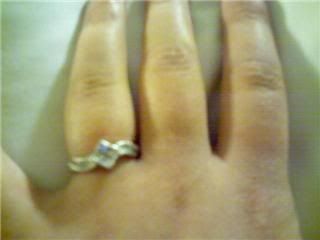 Notice the ring... not the fat fingers, lol!
Heeee, I got engaged!!
As of January 31, 2008 I shall be sans gallbladder.
Dear Gallby,
You've got one week...enjoy it, betch!
Forever yours,
Lily


I am getting a little bit stressed over these college applications. Man, I thought that this kind of stress would be over after applying for undergrad. It feels worse now. Ooh well. I worked super duper hard during undergraduate so that I could apply to some prestigious schools.

Just as the time was coming close for me to pick and choose these fancy schools, I get a call from my Dad saying that he will only help me pay for state schools. For all of you non-NYers, these are the SUNY schools (like Suny Binghamton for example) and the CUNY schools (like Hunter College.) Although there are plenty of really nice Suny's and Cuny's out there in NY... I worked hard so that I could go to a school that was a bit more challenging. I was a little bit heartbroken (as lame as that sounds.)

Fast forward to thanksgiving break. While traveling home, I get a call from my Mom (actually a voicemail) saying that she changed my Dads mind and now he will pitch in for whatever school I want to go to. It makes sense, since my brother never got the shaft in choosing schools and always got to pick where he wanted to go out of every school in the US, lol.

So... things have changed. My original list of schools that I was applying to was...

1. Hunter College (FIRST CHOICE)
2. City College of NY
3. Lehman College
4. Brooklyn College

Well... that has changed. Here's the updated list...

1. NYU Steinhardt School (FIRST CHOICE)
2. Columbia University Teachers College
3. Fordham University
4. Hunter College
5. Brooklyn College
6. Pace University

I will be graduating with (approximately) a 3.5 GPA. According to some of the stats that I've found from researching these schools, I feel like I actually might have a shot making it into these good schools. Hunter, Brooklyn and Pace are backups. I think that if I didn't make any of the first 3... I'd go to Hunter. Oyyyyyy vey. Wish me luck!

BRANDON AND BRAD IF YOU ARE OUT THERE - I can't wait to make up for some lost time in NYC next year. I miss you, boys!

PS: Happy Hanukkah
I imagine that most of you guys probably don't care, but writing this eases my stress a little bit. I am all worked up from putting in applications to graduate schools.


It's Dec 12 at 11:30AM. It's free. It's at the C Walsh Theater (contact me for directions)

Thanks,
Lily
I have a show coming up and I'd really like someone to come. My parents can't go, so it would be really nice to have some friends there supporting me. I will be singing two songs and I will be involved in a few scenes.
Hey guys. I am gathering all of my stuff and getting ready to apply for graduate school. I just wrote a statement of purpose, that will be edited a few times (to tailor it to each program I am applying to) but I have a primary draft all written up. I'm looking for anyone to give me any advice on subject-matter, grammar, or any other kinds of general editing. I am going to put it under a LJ cut.
I know that it is short, but most of the colleges only ask for 500 words. I figure that no admissions person would want to read a novel when they have 8 billion more apps to review.
Here are the schools I am applying to
CUNY Hunter
Pace University
New York University -REACH SCHOOL

Brooklyn College -SAFETY SCHOOL

Bank Street College of Education


For the last two months I have been getting these mysterious and severe back pains that travel to the front of my abdomen. It hurts incredibly bad and bloats me and it's just a miserable feeling. It only lasts about 10-20 minutes and then it is gone. When it's gone, it's like nothing ever even happened to me.

The other night it happened twice, which is super rare. I have been putting off going to the doctors for a while since, like I said, when it's gone, I feel fine. Nikki finally forced me to go to the doctors. I got all sorts of tests done. X-Rays, blood work, physical, ultrasound... and this morning I finally got a phone call with the results

If anyone wants to send my gallbladder a farewell card or parting gift, let me know... haha. I have gallstones, and the bitch has to go. I am super super super sad about having surgery again. I feel like...why do people go their whole life without surgery, and I need one every two years?! The doc told me that the surgery is pretty easy, done laprascopically and outpatient, but I just don't want to be in pain. I really don't want this right now.

I guess I can be glad it wasn't kidney stones though, I guess that would have sucked a little more. I don't know. I am just a little sad. I got the call about 20 minutes ago. I woke Nikki up to tell her...I feel bad about that too. UGH- fuck you, gallbladder, you useless organ, you!

Ohh well, I guess I've complained enough.

-Lily
As if my body hasn't been cut up enough....